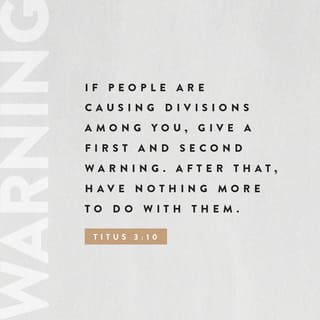 https://www.bible.com/bible/1713/TIT.3.10.CSB
Today's heresy is tomorrow's orthodoxy. When I was trained into ministry, I trained according to the understanding of doctrine of the Independent Christian Churches and Churches of Christ, i.e., The Restoration Movement. Many moons ago, the "Campbellites" as they were once called were maligned and shunned because they promote "baptismal regeneration" or the idea that getting baptized is what gets you saved. Alexander Campbell was asked to leave the Mahoning Baptist Association of Western Pennsylvania for his radical beliefs. Today the Restoration Churches believe that baptism alone does not save you, but that baptism is essential to salvation, as part of a process of faith, repentance, confession and baptism. We believe that baptismal regeneration is not heretical, but essential to the salvation process.
Funny enough though, salvation without baptism was considered heretical a few hundred years ago when Ulrich Zwingli first brought the idea during the Reformation. At that time, believer's baptism wasn't really a thing, but infant baptism was commonplace. Zwingli proposed that it wasn't baptism that saved you (as the Catholics insisted), but that belief in Jesus was essential, and baptism was a work, an act of obedience. Thus, many who follow in his footsteps, including the Evangelical Movement today, put baptism on the back burner, as an act of obedience, rather than including it as part of salvation.
But then again, infant baptism hasn't always been a thing either. In the beginning, those who believed and were baptized were the ones that were saved. Infants cannot grasp such ephemeral concepts as salvation from sin. Thus infants were excluded from baptism in the early church. However, the idea began to be taught that baptism, apart from faith, could be effective for salvation. This was a heretical idea that was espoused in the second century. The practice of baptizing infants was introduced primarily for parents worried that their children would not live long enough to believe. They were worried about this because of another heretical idea, "original sin", which taught that one was guilty of Adam's sin from conception, and only baptism could save someone from it. However, they missed this one point: while all carry the burden of Adam's guilt, God also provides "original grace" for children before they reach the age of accountability, the age they are old enough to have faith in Jesus. (Is that another heretical idea, or something that makes logical sense?)
Thus today's heresy becomes tomorrow's orthodoxy. It just depends on who you listen to.
That said, this brings up today's topic. In the verse above, the of "divisions" is in Greek "heresy". It seems an odd thing to put in the Bible if we have no way to know what heresy is. Rather, Paul, as he is writing to Titus (an evangelist in Crete) assumed that Titus would know what is truth and what is heresy. As I listed above, baptism, which is a central component of Christian doctrine, has been thrown around the proverbial playground of theology. It has been labeled saving and an act of obedience. It has been called essential and non-essential. My friends, this is a core doctrine of Christianity. This isn't like setting a date for Jesus' return. This is at the core of what we believe about salvation, and yet it has been played with by the Church for 20 centuries!
All of that to say this: Heresy isn't as easy to spot as it used to be. The idea of heresy also points to the idea that there is a "faith once for all delivered to the saints" that can be known and understood, and that we can identify counterfeits. Is there Paul? Is there really?
The only way to resist lies is to know the truth. A truth understood can spot a lie every time. In the early days of the church, even to the time of the Reformation, having a copy of the Bible in your hands was almost impossible and horribly expensive. Only the elite had the truth and dispensed it as they pleased. (Note: The Book of Eli movie is an interesting take on this idea, for if you are the only one who has the book, you can make it say anything you want and can control people as you please). You do not have the luxury today of waiting for others to tell you what the truth is. You no longer have the excuse of waiting for church time to read the Book. The Bible is available on every platform, every form of media. We are without excuse to not know what the truth is.
But that is just the start. Even being familiar the Scriptures can expose you to the eisegetical whims of false teachers, those who read their own ideas into the Bible and make it say what they want. Just recently I read an article about the "Prosperity Gospel" teachers who say that God wants you to be healthy and wealthy and quote Scriptures accordingly. If you go into the Bible with that idea in mind, every verse will seem to say that back to you. Even the verses that say Christians will suffer will seem mere symbolism to one so deceived.
Read your Scriptures. Study your Scriptures in context, in the context of the paragraphs and passages they are found in, their historical and literary contexts and how both original author and audience understood them. Also remember you have the Holy Spirit. He is with you to help you understand the Scriptures. If a teaching you receive sounds "funny" or "odd", that may well be the Holy Spirit nudging you to study and pursue further. I have had many occasions for this this and been rewarded for my pursuit.
NEVER take a verse by itself. NEVER assume you know what a verse is saying until you read its context. NEVER let anyone tell you what a verse means if they don't also include its context in their teaching. The world is full of false religions and heresies where single verses are ripped from their contexts and put together with others to create new doctrines.
Paul's warning is clear. Heresy has no place alongside sound Christian teaching. If a false teacher will not recant, then he or she needs to be removed. In your study, don't ever assume that you have come up with a new understanding of Scripture. The Bible has been around long enough that someone somewhere has already had that thought or that understanding. Research your interpretation. Check it against trusted sources. Remember also that the Church is old enough to have collected heretical baggage along her way and passed it off as doctrine, sometimes forming even whole denominations (which is also "heretical" when you think about it). As Glenn Beck says, do your own homework. You may have actually exposed some of it. Be prepared to face the backlash of the Unstudied and the "This is the Way We've Always Done It" Crowd. If you are right, be humble. Don't go around saying you've found the "Truth" because nobody likes that. Instead, offer it as an alternative, and be certain in your facts.
Think critically, both of what you have learned and what you study. Be wiling to ask questions when something doesn't sound right. God bless you in your journey.